Imagine having the power to switch off all the lights in your home with just a single click of a button. That power exists! By redesigning your home with smart switches in Australia, you can do just that. When you opt for a smart switch, you can remotely and automatically uplift and control the lighting and ambience of your home. You can dim the lights based on your mood, alter the colouring, or synchronise your lighting with your music using intelligent switches.
 
What are smart switches?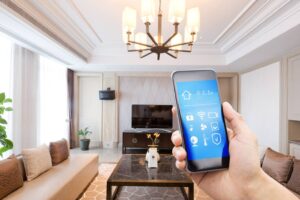 Smart switches are wall switches connected to your home's Wi-Fi network to provide you with remote access through your phone or tablet. They let you control your switchboard virtually, forgoing the need to toggle the switches manually. 

The best part? You don't need to change your bulbs and bulb holders, let alone say farewell to your vintage lighting fixtures, as smart options are compatible with all types of devices and fixtures. 
How do smart switches work?
Smart switches are direct replacements for regular or traditional switches and are boosted with a remote capability. Designed to increase convenience for the user, smart switches offer greater control over your home's lighting, fans and other hardwired appliances. Smart switches require a 2.4GHz home Wi-Fi network. While the 2.4 GHz is a slightly slower network, it has a longer signal range from the router. This makes it ideal and more reliable for smart home products that require continuous usage and connectivity. Some of the most efficient and high-tech ways to connect and use your smart switches at home include:

Voice-enabled control

— Smart switches can be controlled through voice assistant technology such as Google Home, Amazon Echo or other speaker hubs. With one voice command, you can switch on the lights and devices in a room without being present.

Smart switches can be configured and turned on or off based on a timer. For example, you can program your bedroom lights to turn off around the time you head to bed or enable the coffee machine to turn itself on before you wake the following day.
Based on your daily routine, smart switches can set mood lighting options for activities such as watching movies, reading books, working or cooking.
Smart switches give remote access to all electrical components within your home. This includes regulating the temperature while away or switching on the lights from your car when you're entering the house after dark.
While not all smart switches have sensors, some do. Motion sensors on smart switches detect movement and automatically turn on or off based on the ongoing level of activity. Sensory powered smart switches are a great energy-efficient option for commercial spaces.
Benefits of using smart light switches in Australia 
Installing smart switches is a complete game-changer for homeowners. Not only are they packed with numerous, easy to use features, but they provide a list of benefits for tech-savvy consumers and smart-tech newbies alike. Some of the main benefits of smart switches include:
Convenience

— When connected to Wi-Fi, smart switches can be controlled at any time from anywhere. This makes it highly convenient for homeowners looking to remotely activate security functions when they are away. They can also switch the lights on or off before entering or leaving a room and virtually schedule devices to align with their daily routine.



Control

— Smart switches give you immense control over your home's electronic devices. Turning on ambient lights, switching on speakers or getting your favourite cup of coffee ready before you wake up, smart switches enable you to take better control of your lifestyle with minimal effort required



Security

— Most smart switches can be connected to home alarms or security systems. Even while you're away, smart switches help you stay in control of your home's surveillance. So, if you want to let a friend or a cleaner into your property while travelling, advanced smart switches combined with a home automation system allow you to do just that. 



Energy efficiency

— Smart switches are programmed to control and manage energy-powered devices, including lighting, heating, cooling or other lifestyle appliances. This results in significant energy conservation and monetary savings each month. 
Smart switches and neutral wiring
Because smart switches need to stay powered continuously, they must be connected to a neutral wiring system. The neutral wiring allows the completion of the circuit and the switch to be powered when it's turned to the off position or while the devices are manually switched off. 
If you are unsure whether your home has neutral wiring, a trained electrician can help you configure your smart switch to your home's wiring system. To help plan your entire home automation system enlist the help of a home automation design expert who can provide comprehensive documentation of the setup of your new system including wiring requirements.
Cost of smart switches in Australia
If you're thinking about installing smart switches, you're probably wondering whether there's a hefty cost associated with them. While they certainly help cut down overall energy costs, they require an initial investment. This includes the cost of the smart switch device and the professional installation process. The average price of smart light switches in Australia varies based on several factors such as the brand, mounting design, number of power points or gang wall operators. But don't worry. It isn't difficult to find a reliable and high-quality smart switch that meets your requirements and fits within your allocated budget. 
The difference between smart switches and smart bulbs
There is a big difference between smart switches and smart bulbs. Smart bulbs are exclusively focused on lighting functions and require compatible devices. On the other hand, smart switches can be linked and configured to all types of devices and electrical components. No matter what room you're looking to add a spark of smart technology to, smart switches are a more holistic and cost-effective solution to home automation. 
Smart switches with or without Wi-Fi connectivity
A very common question is if smart switches work without an internet connection, a router or Wi-Fi services. Don't fret — even if your home's Wi-Fi connectivity fails, you'll be able to use your smart switches just like regular switches by manually toggling them to turn devices on or off.

Discover the best smart switches in Australia at JFK Automation 
JFK Automation is your destination for all home-tech automation services. Since the 1990s, we've been dedicated to designing tech-integrated homes with a unified approach toward industrial design, information technology and smart home automation. 
As one of Australia's leading bespoke home automation installers, we guarantee to elevate your home's design and living experience through customised plans and easy smart switch installation processes. Our exceptional team has worked with a number of homeowners, architects, builders, and corporates to understand different spatial settings and electrical requirements. 
Whether you want to install smart switches in your home or integrate and coordinate your home hub system, JFK Automation can help you achieve your smart home goals. Located in Crows Nest, NSW, our design and automation experts have empowered hundreds of Australian homeowners to design and configure their residences with intelligent technology that makes life easier and hassle-free. If you have any questions about smart light switches in Australia or want to plan the best process for your home automation, get in touch with our team of smart home experts today.