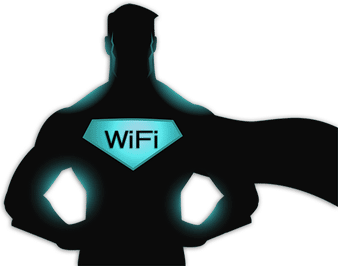 Do you have ultra-fast, reliable internet and Wi-Fi that never drops out?
Well you don't need us then…
For the other 99.9% of the population, we're here to help! (cue WiFi-Man super hero commercial)
Yes, I know. we're not an IT company as such, but the fact is that we've had to become IT experts because practically all technology is connected these days.
A lot of people ask us how all the devices in an automation system communicate. Normally, it's using your home network, so that makes it extra important that your network is as reliable as possible.
A fast and stable home network will not only make sure all your technology is functioning to its best potential, but it'll make you sleep better at night…guaranteed!
Here are some of the other services we offer 
Wi-Fi Consult

4G/5G Backup

Data Storage

Cloud-Backup
Remote System Monitoring
A big concern when investing in technology to control your home is 'what happens when it goes wrong?'.
This is a valid and important question. Technology is complex, even if we make it easy to use. If it goes wrong, it can be difficult to figure out what the problem is over the phone – which traditionally meant booking an on-site service call. Not ideal if you have a house full of people coming over!
Well, we could have the solution for you! Using awesome network technology (borrowed from the IT world) we now offer a Remote System Monitoring package, which means that we keep an eye on your system from the comfort of our office chairs and can often fix problems before you've even noticed they're a problem. Essentially this means a much more comprehensive service offering for you and fewer service calls to fix minor issues.
You've all been there with the dreaded 'firmware update required' pop-up that you just can't get rid of. Now we can often make that headache go away with a simple push of a button remotely. That's much better than waiting 3 days for a technician to come to your house isn't it?